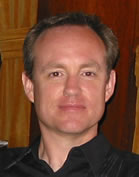 Hello!
Welcome to our online home. I'm Marc McNaughton, owner and creative director for The McNaughton Group. Since we'll be working together, I think it's important that you know a little about your new colleague and partner.
My twenty-year career has spanned graphic design studios, national Top-10 prepress houses, and graphics departments for major corporations such as Quiksilver, Inc. I've managed departments and also been the artist 'down in the trenches'. This has given me an appreciation and unusual level of skill in the entire graphics production process, from concept to the target customer's hands or screen. I've been able to turn this knowledge into economies for my customer - delivering eye-catching work that not only looks great on the computer screens here at TMG, but also in the real world of printing presses and magazine placements.
One thing I've learned over the years is that none of us stand alone. I've had a sideline design business since my very first year in the field, but when I decided to make my part-time gig a full-time passion, I knew that there would be times when I would need specialists for getting some of the jobs done. This is where the concept of The McNaughton Group was born. While I'll be your major point of contact and I'll be providing the creative vision behind all the work we'll do for you, there really is a group of highly-skilled professionals that stand with me to get your work done on-time, and with spectacular results. In my years in the business, I've been able to work and form connections with some of the premium talent in the fields of photography, illustration, copywriting, and production art. Each of them is as passionate about their own field as I am about design and marketing. If your job requires their aid, I'll be sure to introduce you. I want you to be comfortable with all of us, who will be working so hard to make your project a success.
Thanks for stopping by today. I look forward to working with you.